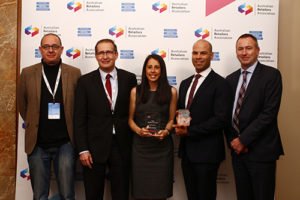 ALDI took home the top prize from the Australian Retailers Association's 2016 Retail Awards this week, in recognition of its growth, influence and market-leading policies.
"We are proud to be recognised as the price leader in the market, helping Australians live richer lives for less," a spokesperson for ALDI Australia said. "Every week, over two million Australian shoppers visit ALDI Australia to shop from our range of products, including award-winning grocery essentials and exciting Special Buys, together with fresh fruit and vegetables.
"With 60 new stores opening in 2016 and 12 per cent market share on the eastern seaboard, ALDI has firmly cemented itself as one of Australia's favourite supermarkets."
Congratulating ALDI, eftpos Managing Director Bruce Mansfield said: "Australian retail today is not only extraordinarily competitive, but the industry is evolving at a rapid pace, with more international brands and the increasing use of technology and new channels."
Presented annually by the ARA, the eftpos ARA Australian Retail Awards are billed as the nation's longest running and most prestigious retail recognition program, rewarding and celebrating Australian retail businesses and individuals for success, innovation and growth.
This year's breakfast event was at the Melbourne Grand Hyatt and, along with presentation of the awards, featured keynote speakers who have experienced  retail industry success: Boost Juice co-founder and Chair of Retail Zoo Jeff Allis and Daniel Flynn, co-founder of social enterprise Thankyou.