Brookvale Union has launched a RTD Vodka Lemon Squash, promoted as a "boozier adaptation of a classic that's quenched the thirsts of Aussies for generations".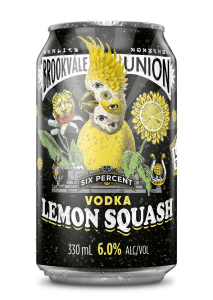 "And while Aussie consumers might be familiar with Brookvale Union's stable of epic tasting, ridiculously refreshing liquids and quirky, off-the-wall vibe," says the brand, "this new release is anything but ordinary as the brand dips its toes into 6% ABV for the first time.
"As with all Brookvale Union drinks, the number one priority for the team when creating Vodka Lemon Squash was flavour. Using quality ingredients and real lemon juice concentrate, the result is a clean, easy drinking, refreshing and downright delicious drink that's surprisingly low in sugar to boot (take a sip and you'll know what we mean)."
Brookvale Union Chief Marketing Officer Todd Atkinson adds: "We've recognised the growing consumer trend for nostalgic and familiar flavours, with drinkers wanting a release from the super serious world with great tasting, uncomplicated drinks. They're looking for high energy good times, and want a drink to match, so we've created a new Aussie pub classic made with some naughty little lemons to whet their whistles."
Brookvale Union Vodka Lemon Squash is now available in bottle shops.