Simple Steps technology from Cryovac offers a smart and superior packaging solution that saves time and money while maintaining high standards for food safety, quality and consistency.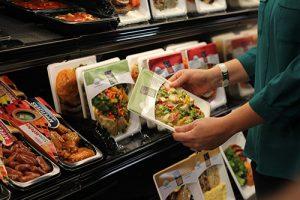 Sealed Air's Cryovac food-packaging brand continues to expand its Cryovac Simple Steps product line, including a unique upscale plate design, which combines the convenience and simplicity of heat-and-serve packaging with enhanced aesthetic appeal.
Meeting the unfulfilled need for a gourmet look for the heat-and-serve category, the Cryovac Simple Steps product facilitates a new level of upscale consumer experience for the ready meals market.
The Cryovac Simple Steps plate was developed with foodservice and retail applications in mind. Retail operators and manufacturers can benefit from consistent product quality across multiple-unit locations and accurate portioning. Meanwhile, the end consumer can enjoy increased levels of convenience through eliminating the need for plating after heating.