What happens when you are a beer-loving Aussie who has just tested positive for coeliac disease, with strict instructions by the doctor to drink 'no more beer'?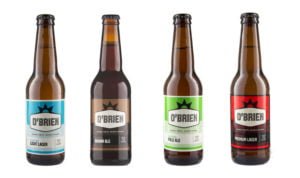 For many this would be a nightmare, but for John O'Brien and fellow coeliac Andrew Lavery, it was the start of a new dream.
The pair met via The Australian Coeliac, the magazine of the Australian Council of Coeliac Societies, and in 2004 established Rebellion Brewing, manufacturing and distributing O'Brien Beer, a range now stocked in more than 1,000 outlets across Australia.
All O'Brien Beers are brewed using sorghum and millet, instead of the usual barley and wheat, making O'Brien Beers 100 per cent gluten free. Based in Ballarat, Victoria, the O'Brien brewery is equipped with machinery built specifically to brew with gluten-free grains. All O'Brien Beers are also free from any colourings and preservatives and have won numerous awards, including the first two Gold medals at the Australian International Beer Awards for gluten-free beers.
There are now four standard O'Brien brews available all year round plus four seasonal drops. The core range includes a Pale Ale (4.5 per cent ABV), Premium Lager (4.5 per cent), Brown Ale (4.5 per cent) and Light Lager (2.7 per cent).