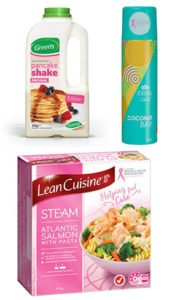 Throughout October, leading international and Australian brands will donate proceeds from the sale of special 'pink' products to help the National Breast Cancer Foundation (NBCF) continue to fund first-class research and reach their goal of zero deaths from breast cancer by 2030.
Proceeds from the special edition 'pink' products will help NBCF fund vital research into prevention, early detection and improved treatments for breast cancer – the most common life-threatening cancer facing Australian women.
"Year after year our generous corporate partners have pledged their support for breast cancer research through their special-edition pink ranges," NBCF CEO Dr Sarah Hosking said. "This has raised millions of dollars for innovative research that is essential to improving how breast cancer is diagnosed, managed and treated."
Some of the products that will have a special-edition pink variant include Green's Original Pancake Shake, Lean Cuisine, Cedel Conditioning Foam and Cedel Coconut Bay Hairspray, and Hallmark Premium Boxed Cards.