The latest stage of Gold Coast shopping centre Pacific Fair's redevelopment includes a world-first digital chandelier as well as a unique wave atrium screen, both of which are set to revolutionise in-centre advertising in Australia, according to AMP Capital Shopping Centres.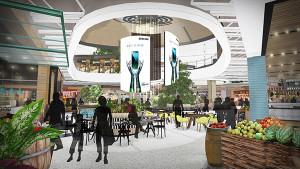 The digital chandelier, developed in partnership with out-of-home media provider oOh!, features three curved screens staggered in height to create a "distinctive aesthetic, custom-produced for the space to provide maximum impact and consumer engagement".
It is located at the intersection between the fresh food market, fashion mall and casual dining precincts, viewable from all directions in the high-traffic area.
The wave atrium screen is double-sided, with the pitch of the wave engineered to ensure viewing is maximised from all angles. It is located in the atrium outside the Myer store.
Both were unveiled as part of the latest stage of Pacific Fair's $670 million redevelopment on August 20. The centre is being transformed into a leading shopping destination in Queensland and the fourth largest shopping centre in Australia. It will have more than 420 retailers across fast and luxury fashion, fresh food, dining and entertainment when the redevelopment is complete.
"We are extremely excited to introduce a world-first digital innovation to Pacific Fair," AMP Capital Shopping Centres Head of Brand and Retail Solutions Lisa King said. "Our goal across all our centres is to take a place-led approach to create unique shopping environments that engage shoppers and provide value to the community. The ability to use these bespoke digital channels to create exciting content for our shoppers will certainly help achieve this goal."
The digital chandelier and wave atrium screen are the latest digital technology developments launched in AMP Capital's shopping centres. Last year, AMP Capital and oOh! introduced an Australian-first digital concourse at Sydney's Macquarie Centre, incorporating a 21m curved panel and a digital screen custom produced for the space and able to show both advertising content and artistic, ever-changing visuals.