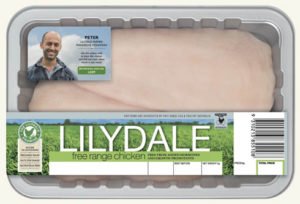 In response to research showing Australians want to know more about the origin of the food they're consuming, Lilydale free-range chickens now include labelling that details the farmer who raised the chicken on the pack.
'Food Traceability', a study commissioned by Lilydale, shows that animal welfare and food safety are the key drivers for consumers wanting to understand exactly where their food comes from.
Ninety-three per cent of Australians believe all food should have clear labelling detailing where their food was sourced and 71 per cent show interest in knowing more specific details of the farms from which their meat was sourced.
Further, ninety-six per cent of consumers want food sourced from within Australia, and 70 per cent want to know where it originated. As many as 70 per cent of Australians are concerned about the risk of disease being imported from overseas food product, while 81 per cent are also concerned about lower standards and regulations on imported foods.
In response to this need for more information, Australian owned and operated Lilydale free-range chicken is now giving Australians the opportunity to trace each pack of chicken back to the farm it came from.
"We're proud of our home-grown produce, so we wanted to introduce labelling that allows our customers to trace the source of the chicken right down to the very farm it was grown on," Lilydale spokeswoman Anna Wesser said.
"We're so proud of the calibre of farmers who grow Lilydale free-range chickens, so we've featured them on our packs and have given Australians the opportunity to find out more about them."