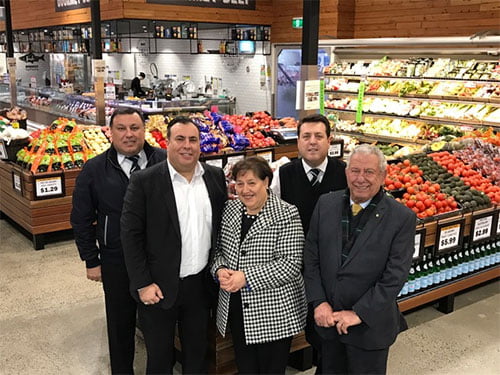 South Australia's McLaren Vale Foodland IGA was awarded the coveted title of Australian International Retailer of the Year at the 2018 IGA Global Rally over the weekend.
The award is the latest in a strong of wins for the supermarket, which is owned and operated by the Romeo Retail Group. Last year the store was also recognised at the national Metcash Supermarkets and Convenience Expo on the Gold Coast, winning two awards as part of the IGA Awards of Excellence: National Retailer of the Year and Foodland IGA/SUPA IGA Store of the Year.
McLaren Vale Foodland IGA offers "the complete package of modern-day grocery retailing". From the sushi bar with its own sushi chef, the extensive gourmet range of meats, antipastos and glazed fruits, and the vast range of gourmet and locally made cheeses from South Australia, the Romeo Retail Group says the store has created a unique contemporary shopping experience for its customers. The store is in the heart of the wine country in McLaren Vale, and regularly holds cheese and gourmet-food tasting sessions for local customers to complement the range of locally available wines.
Romeo Retail Group owner Joseph Romeo says exceptional customer service has always been key to the store's great success.
"The team has worked hard to build great relationships with our local community and our suppliers," he said. "The store is very engaged with the local community and we offer a loyalty card to reward our shoppers."
The Romeo family says its store's operational standards are "second to none" with the store fully faced and ready to trade at any hour of the day. Investment in the team's development is a key priority for the family, with all team members being put through an in-store training program and external courses to develop and refine their skills.
"We go to extraordinary lengths to ensure we're building strong relationships with our customers, community and suppliers," Mr Romeo said. "This set of values has always been at the core of our family-business success, in addition to ensuring our customer service, local offerings and expert knowledge of our produce is the best it can possibly be."
The group is focused on maintaining its independence and providing premium, locally produced food in its stores, and claims to be the largest 100 per cent family-owned company in Australia. "Growing the business from one store to 40, with more on the way, has meant a constant evolution for our family," Mr Romeo said.
The IGA Global Awards are part of the 2018 IGA Global Rally, held in conjunction with the National Grocers Association's Show at The Mirage Hotel and Casino in Las Vegas, US, on February 9-11, 2017.