The next generation of $20 banknotes have entered general circulation this week.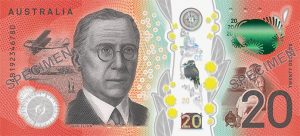 The $20 is the fourth denomination in the new series of banknotes that have been released as part of an upgrade to banknote security. It follows the release of the $5, $10 and $50 banknotes over the past three years. The new $100 banknote is expected to be released in 2020.
Governor Phillip Lowe describes the new $20 banknote as "fantastic". He says it features "world-leading" security technology and iconic imagery.
"Among my favourite features are the top-to-bottom window and the kookaburra, whose wings move up and down as you tilt the banknote," he said.
SMC Corporation Australia New Zealand's (ANZ) comprehensive range of vacuum components is focused on compressed air efficiency. Rather than spending thousands of Dollars upgrading systems, SMC can optimise your current system by replacing the existing vacuum components with efficient, state-of-the-art vacuum solutions.
Read More
"It also provides a great opportunity to tell stories about people and organisations who have contributed to our past and present. One side of the banknote is dedicated to a convict turned astute businessperson, Mary Reibey, and the other to Reverend John Flynn and the wonderful Royal Flying Doctor Service."
'Tactile' feature
The new banknotes have a 'tactile' feature to help people who are blind or who have low vision. This will help them distinguish between different denominations of banknotes. On the $20 banknote, this is three raised bumps on each of the long edges of the banknote.
Existing $20 banknotes
The existing $20 banknotes can continue to be used as all previously issued banknotes retain their legal tender status.
The existing series of banknotes will be withdrawn from circulation over time.