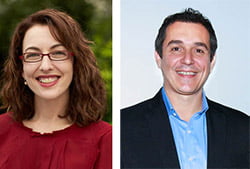 PepsiCo Australia & New Zealand has announced the appointments of Tami Cunningham as Marketing Director – Australia and New Zealand and Danny Celoni as Commercial Director – Australia.
Both will join the executive leadership team. Ms Cunningham will be responsible for leading PepsiCo ANZ's innovation agenda, as well as building and strengthening the brand portfolio across all snacks and beverages. Prior to PepsiCo, she was with The Wrigley Company, part of the Mars group, where she held the position of marketing director for three years, and worked at Lion across various roles within the beer, spirits and wine side of the business.
Mr Celoni will be in charge of leading customer business development and commercial strategy at PepsiCo ANZ. He will also drive joint business partnering with key retailers. Mr Celoni joins PepsiCo from consulting firm Real World Marketing, where he was MD of the commercial division working with major FMCG suppliers on commercial strategy, capability and joint business planning.
"We are delighted to welcome both Tami and Danny to the executive team, who each bring with them a wealth of experience," PepsiCo ANZ CEO Robbert Rietbroek said.
"Both have strong track records with FMCG brands. With Tami's expertise in brand and innovation and Danny's expertise in joint-value creation and business planning, I'm confident that they'll both be major assets to us, our customers and our partners across ANZ as we continue to build our brands and put the customer at the heart of all we do."