The iconic Australian tomato sauce brand will celebrate its 120th birthday officially on November 18 and is inviting Australians to celebrate this important milestone with a bottle of the 'true-blue' sauce.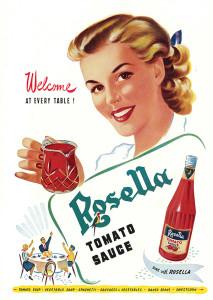 Rosella has issued a national call out encouraging all Australians around the country to share their own personal Rosella memories, stories and memorabilia on social media using the hashtag #Rosella120.
"We are extremely proud of our history, growing from humble beginnings in a backyard operation in Carlton to a much-loved Aussie brand," Chairman of Sabrands and owner of Rosella Dan Presser said.
"Whether it was diggers during World Wars I and II enjoying a little bit of home with every mouthful of our tomato soup on the frontline, or kids through the decades devouring snags smothered in our tomato sauce at school sausage sizzles, Rosella is a taste we all grew up with.
"We want Aussies to harness this milestone in Australian heritage by sharing with family, friends, colleagues and the whole nation their own personal memories and experiences of growing up with Rosella."
A star-studded birthday video, featuring 'Happy Birthday' messages from Australian celebrities and members of the public will be released online via Rosella's website and social media channels, including messages from Jimmy Barnes, Richard Mercer and Denis Walter OAM. TV presenter Sally Williams – known for posing nude behind a giant bottle of Rosella Tomato Sauce in Nick Morris' painting Aisle 2 – also makes a guest appearance.
"It is immensely warming to see how Rosella has become so much more than its products," Mr Presser said. "The 120th celebrations are as much about Australia's heritage as it is about the brand."
When Sabrands rescued Rosella from receivership and bought the brand in 2013, the company immediately stopped the importation of tomatoes from China and returned the brand to its founding mission of using fresh, home-grown ingredients and supporting Australia's agricultural industry. The Australian-family owned and manufactured food icon supports businesses in Victoria, SA and Tasmania.
Mr Presser says Sabrands intends to continue expanding the Rosella product range and rebuild its share of the tomato sauce market.
"Rosella remains wholeheartedly committed to Australian people and produce," he said. "We will continue to support Australian farmers and deliver quality products using only the freshest ingredients. We will continue to create more job opportunities for the Australian labour market because we¹ve always been, and always will be, a brand of the people."