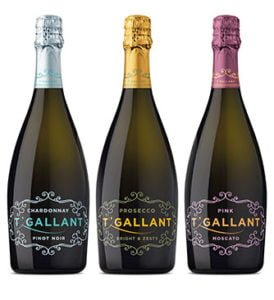 T'Gallant Chardonnay Pinot Noir, Prosecco and Pink Moscato – all growing varietals in Australia – are now available for orders from Treasury Wine Estates.
Made in the "approachable, fresh and vibrant" style that T'Gallant says it is known for, the trio is taking advantage of the growth in sparkling wine in the $15-$20 bracket in Australia and the" great opportunity that lies with millennial females in this space".
"Many of the sparkling wine purchases made by these consumers are around $10 and the T'Gallant trio entices them to premiumise," T'Gallant Marketing Manager Marc Heine
"Our new Prosecco, Chardonnay Pinot Noir and Pink Moscato wines are presented in sophisticated, curve-shaped bottles with pops of bright, bold colours that have strong stand-out on shelf. And while great packaging is advantageous, it must be supported by quality wine to encourage repeat purchases and, so far, the feedback from people we've shown these wines to has been overwhelmingly positive."
The T'Gallant Prosecco is described as being fresh and dry with aromas of citrus, apple and pear leading to a bright and zesty finish. Also dry but with a creamier texture, T'Gallant Chardonnay Pinot Noir "exudes citrus and white peach aromas, citrus flavours with a hint of bread dough". For those who enjoy something fruitier, T'Gallant Pink Moscato is a traditional style of Moscato that is "fragrant, sweet and fully spritzed".
All three T'Gallant sparkling wines are available now for orders from Treasury Wine Estates at $19.99 (RRP).