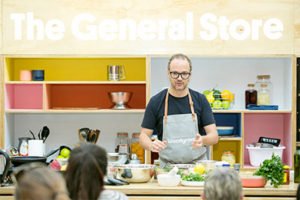 Celebrity chef Tobie Puttock gave a live cooking demonstration as part of celebrations to mark the opening of the new-look fresh-food precinct at Woodgrove Shopping Centre in Melton West, Melbourne.
Until June 26, the precinct will feature the 'Woodgrove General Store' program of activities including interactive workshops, cooking demonstrations and presentations.
For his demonstration, Tobie Puttock, best known as an ambassador for Jamie Oliver's enterprise, Jamie's Ministry of Food Australia, prepared meals featuring fresh ingredients from local suppliers.
Activities are free. The workshops cost $5 and include cooking classes for kids, plus chocolate and dumpling making.