Featuring a clean design and bold colour palette inspired by the quintessential Australian beach environ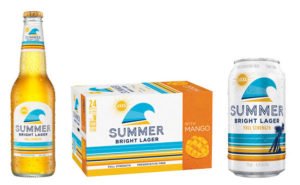 ment, XXXX Summer Bright Lager will now also feature a mango flavoured beer.
XXXX Marketing Manager Richard Knight says the brand grew by 4,000,000lt with the launch of a lime variant in 2015 and XXXX hopes to grow that even further with the addition of Summer Bright Lager with Mango.
"There are around 20 flavoured beer products available in Australia and options are limited to lemon, lime and apple," he said."Mango proved to be the clear front-runner flavour in our sensory research and we think it will be very popular."
Flavoured beer is a small but growing segment in Australia. It currently accounts for 15 million litres (about a quarter of the size of craft) and is growing at 25 per cent versus a year ago (Aztec, MAT to Jan 2016). Globally, the segment is better represented, accounts for 2.6 billion litres and is predicted to grow ahead of category at 6.3 per cent in 2014-2019 (Euromonitor Alcoholic Drinks Dashboard, 2014).
Summer Bright Lager with Mango is an easy drinking, low-bitterness beer blended with mango flavour. It has a sweet finish, and is 4% ABV.
The launch will be supported by a marketing communications program that includes digital, social, outdoor and print advertising, sampling, experiential, point of sale and PR.