The Consumer Price Index (CPI) increased 1.2 per cent in the September 2023 quarter and 5.4 per cent annually, according to the latest data from the Australian Bureau of Statistics (ABS).
ABS Head of Prices Statistics Michelle Marquardt says: "CPI rose 1.2 per cent in the September quarter, higher than the 0.8 per cent rise in the June 2023 quarter. The rise this quarter however continued to be lower than those seen throughout 2022.
"While prices continued to rise for most goods and services, there were some offsetting falls this quarter including for child care, vegetables, and domestic holiday travel and accommodation."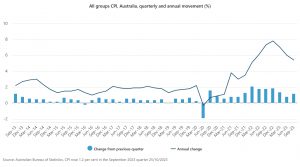 Quarterly CPI inflation
The most significant contributors to the rise in the September quarter were automotive fuel (+7.2 per cent), rents (+2.2 per cent), new dwellings purchased by owner occupiers (+1.3 per cent) and electricity (+4.2 per cent).
Automotive fuel increased 7.2 per cent after two quarters of price falls. This is the largest quarterly rise in fuel prices since March 2022 and is mainly caused by higher global oil prices.
Rents increased 2.2 per cent, following a 2.5 per cent rise in the June quarter with rental price growth for flats continuing to outpace price growth for houses. The increase in rents this quarter was moderated by changes to Commonwealth Rent Assistance.
From 20 September 2023, the maximum rate available for Rent Assistance increased by 15 per cent on top of the CPI indexation that applies twice a year.
"This is the largest increase in Commonwealth Rent Assistance for 30 years and, while the increase applied for only part of the quarter, it reduced the overall increase in rents by 0.3 percentage points," Ms Marquardt said.
Prices for new dwellings rose 1.3 per cent this quarter, though they continue to ease from rises seen in 2022 due to subdued new demand and easing material costs.
Electricity incerased 4.2 per cent reflecting higher wholesale prices being passed on to customers from annual price reviews in July.
"Electricity prices were partially offset by the Energy Bill Relief Fund rebates, which were introduced this quarter. These rebates reduced electricity bills for all households in Brisbane and Perth, and for concession households in the remaining states and territories. Excluding the rebates, electricity prices would have increased 18.6 per cent in the September quarter," Ms Marquardt said.
Food prices (+0.6 per cent) also increased this quarter, with the rise being the softest quarterly growth since September 2021. The growth was driven by meals out and takeaway foods (+2.1 per cent). Partially offsetting the quarterly rise were price falls for fruit and vegetables (-3.7 per cent).
"Fruit and vegetable prices fell this quarter due to favourable growing conditions. Berries, grapes, and salad vegetables such as tomatoes, broccoli and capsicums drove the fall," Ms Marquardt said.
Child care fell 13.2 per cent, and was the largest contributing fall this quarter. Changes to the Child Care Subsidy raised the amount of subsidy received for over a million families and came into effect on 10 July 2023.
"This change reduced out of pocket costs for households, more than offsetting child care fee increases this quarter. Without the changes to the Subsidy, child care would have increased 6.7 per cent," Ms Marquardt said.
Annual inflation measures
Annually, the CPI increased 5.4 per cent, with new dwellings (+5.2 per cent), rents (+7.6 per cent), electricity (+14.5 per cent) and automotive fuel (+7.9 per cent) the most significant contributors.
"September quarter's annual increase of 5.4 per cent is lower than the 6.0 per cent annual rise in the June 2023 quarter. This marks the third quarter in a row of lower annual inflation, down from the peak of 7.8 per cent in the December 2022 quarter," Ms Marquardt said.
Underlying inflation measures reduce the impact of irregular or temporary price changes in the CPI. Annual trimmed mean inflation was 5.2 per cent, down from 5.9 per cent in the June quarter.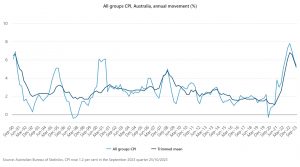 Monthly CPI indicator
The ABS also released the monthly CPI indicator for September, which increased 5.6 per cent in the 12 months to September.
"The most significant contributors to the rise were new dwellings (+4.9 per cent), automotive fuel (+19.7 per cent), rents (+7.6 per cent) and tobacco (+7.5 per cent).
"This is the second consecutive rise in the annual movement up from 5.2 per cent in August and 4.9 per cent in July. While many industries price increases are slowing, automotive fuel has had large annual increases in the last two months, which has been driving the movement higher," Ms Marquardt said.
According to CreditorWatch Chief Economist Anneke Thompson, the ABS data shows that services inflation has moderated since June 2023. "While still high, at 5.8%, it is down from the June 2023 peak of 6.3% and is also the first decrease in the rate of services inflation since December 2021," Ms Thompson said.
The main categories of services inflation that continue to rise include rents (up 7.6% year on year), insurance (14.7%) and dental services (4.9%). Holiday travel inflation slowed dramatically, from 12.2% in June 2023 to 6.8% in September. Utilities, while trending down, is still showing strong price growth, at 12.6%, and automotive fuel (up 7.2%) recorded the highest quarterly increase since March 2022, "which will come as little surprise to Australian car owners."
"When reading into the breakdown of the inflation components, the data suggests that monetary policy continues to work as it should on Australian consumers. Key discretionary items, such as furnishings, household equipment and services (up 2.5%), clothing & footwear (up 0.9%) are showing very limited price growth in the face of weak consumer demand. Non-discretionary items such as food rose 4.8% over the year, but this was mostly driven by meals out, which rose 6.9% and where pricing continues to be impacted by high operating costs," Ms Thompson said.
"And it is these high operating costs that continue to be the biggest risk for Australian businesses, particularly small businesses. While fuel, insurance and utilities prices are still rising, demand is now falling in many areas, such as retail trade, dining out and construction, and these businesses are now finding it increasingly difficult to pass on these costs to already financially strained consumers.
"This is why we expect the business failure rate for those businesses sensitive to cost rises to be the highest. In the transport sector, higher fuel prices will be eating into margins, but customers will be unwilling to take on any higher cost of delivery in the current economic climate," she said.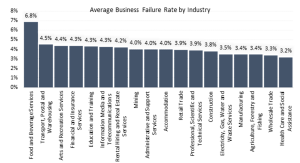 "In terms of the cash rate, today's inflation data will give the RBA some cause for concern, as the pace of inflation falls has slowed. However, the RBA will be looking closely at the contributors to this and asking itself what a higher cash rate can actually do to slow these price rises. In some key categories, such as rents, utilities, insurance and fuel, a cash rate increase will have little to no impact on any future pricing. This will be taken into careful consideration by the central bank."
According to Deloitte Access Economics Partner Stephen Smith, "The September quarter inflation figures released by the ABS this morning are an upside surprise and reinforce the volatility and uncertainty surrounding the Australian and global economic outlook. While the pace of underlying inflation is clearly faster than is currently forecast by the Reserve Bank, the implications for interest rates should rest on the causes of the data surprise, not just the result. While price growth in September was faster than anticipated, this outcome was driven by specific factors rather than broad-based spending pressures.
"For example, higher petrol prices triggered by an upsurge in the global oil price were a major contributor to higher inflation in the September quarter. Excluding the transport sector, headline inflation rose by less than 0.9% in the September quarter. At the same time, services inflation was a relatively benign 1.04%", Mr Smith said.
"Importantly, the September quarter inflation figures do nothing to support the need for further increases in interest rates. Given recent hawkish comments by Governor Bullock, today's inflation figures may twist the RBA Board's arm with respect to a November rate hike.
"Deloitte Access Economics would question the efficacy of further increases in interest rates from here, given that none of the excessive price growth in the September quarter appears to be driven by strong household spending or an over-heating economy. Combined with the fact that the full impact of earlier rate rises is still to be felt, there remains little justification to increase interest rates in Australia beyond their current level of 4.1%", he said.