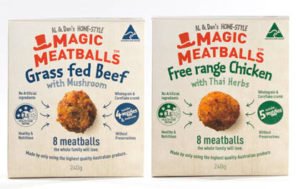 Australian brand Magic Meatballs has launched a range of meatballs promoted as "healthy frozen meals" in Woolworths supermarkets.
Magic Meatballs are marketed as containing no preservatives or artificial additives and combining "quality ingredients with honest, home-style cooking to make a simple and convenient yet super-nutritious freezer dinner option".
The meals are available in Grass-Fed Beef with Mushroom and Free-Range Chicken with Thai Herbs.
Alison Heagney founded Magic Meatballs after becoming frustrated at having no time to prepare food and the limited range of quick and healthy options available in the supermarket.
"I was concerned for my son, who was such a fussy eater, so I'd make these meatballs and pack them with 'hidden' veggies and put them in the freezer as my go-to meal," she said. "Then I started making them for friends and I suppose the rest is history – I saw an opportunity to provide my 'meal in a meatball' to time-poor families across the country."