Mater's maternity and baby care products have been awarded three gold and one silver award in the 2015 My Child Excellence Awards.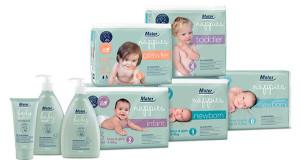 The previously award-winning Mater Body Balm for Pregnancy was awarded gold in a category highlighting favourite products of mothers and mothers-to-be.
Mater products also took out gold in two categories recognising favourites in the baby skin care and bath wash categories, with Mater Baby Moisturiser and Mater Baby Wash, respectively.
Mater Nappies also achieved high recognition, receiving a silver award in the Favourite Disposable Nappy category.
Mater's maternity and baby care product range is specially developed by Mater midwives and mothers, who worked together to develop a safe, ethical and affordable range of products backed by years of research and development.
As a result of being specifically formulated for newborn skin, Mater maternity and baby care products are claimed to be widely recognised as the best high-quality, low-irritant product range for babies in the market.
"Mater Mothers' Hospitals is dedicated to providing exceptional care to mothers and their babies in hospital as well as continuing that care into people's homes," Mater Mothers' Hospitals Director of Women's Health Services Maree Reynolds sais.
"These products are an exciting and trustworthy way for us to do just that.
"These products, and the ones yet to come, are unique in the marketplace as our midwives have offered their expert opinions to ensure they're of the best quality for mothers and babies."
The product range includes Mater Body Balm for Pregnancy, Mater Baby Wash, Mater Baby Moisturiser, Mater Nappy Balm and five sizes of Mater nappies, from Newborn First Weeks to Toddler. The range will expand to include baby wipes in the near future.