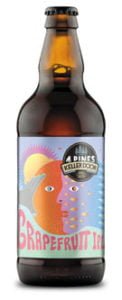 Grapefruit IPL, the 4 Pines Brewing Company's latest small-batch 'Keller Door' release, is infused with the zest of ruby grapefruits.
4 Pines says the hops chosen for the beer – Azacca, Centennial and Waimea – complement the sharp, fruity aromas of the grapefruit with their own unique scents of citrus, tropical fruits and sweet spice.
The company adds that the lager yeast fermented cold and left for extended lagering (cold storing) time in maturation results in a smoother, more refined version of the classic IPA, with the bold and unique aromas of hops and real fruit, and the "typical robust cleansing bitterness".