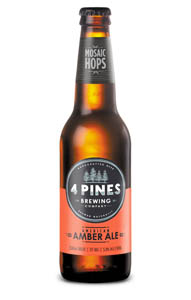 The new permanent range release, 4 Pines American Amber Ale, began its life in 2013 as a 10-keg, one-off Keller Door beer known as Autumn Amber Ale.
At the time, the beer was brewed for the 4 Pines Brew Pub cask ale hand-pull tap. The hand-pull tap uses their custom-built real ale cellar system, replicating that of an English real ale cellar in both storage method and temperature.
Out of the 40 or so unique styles developed at the Brew Pub each year that make it on tap, this swiftly became a firm favourite of both brewers and locals at the pub. This led it to be the first bottled Keller Door Small Batch release in 2014, at the time known as Keller Door Amber Mosaic.
After a third and final name change to its modern day glory and then picking up Champion Amber Ale at the 2015 Craft Beer Awards, the rest is history for American Amber Ale and the final incarnation of this beer now takes pride of place in the 4 Pines range as the seventh permanently available beer.
Ruby in colour, with rich copper hues, American Amber Ale's hop-driven aroma of currant and pear are rounded on the palate with toasted malt character, light fruitiness and a balanced bitter finish.
American Amber Ale 5.1% ABV is available in 6x330ml bottle (RRP $20.99) and 24 x 330ml carton (RRP $65).