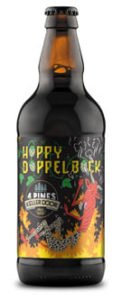 The latest of 4 Pines Brewing Company 'Keller Door' small-batch releases is an interpretation of a classic German style, released to tie in with Munich's Oktoberfest.
The company says the Doppelbock has always been a favourite in the brew pub and the addition of hops has given it a non-traditional twist.
The Hoppy Doppelbock, it says, packs a punch so strong that "Beelzebub himself drops to the floor and quivers at the mere sight of it".
"This double-down deal with the devil crams in so much super-rich Munich malt flavour it can sustain a monk through months of fasting and enough contemporary hope to smother the hot fires of hades," 4 Pines says. "The monks of old believed that liquid cleansed the body and the soul. Amen brothers and sisters, redemption is here."
Hoppy Doppelbock is available in a limited-release 500ml bottle (RRP $11; ABV 7.5 per cent; IBU 40).