Australia's first hemp water, +hemp, is releasing a new flavour this month.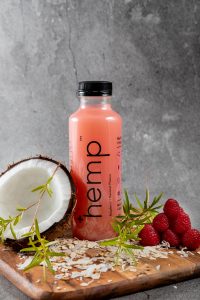 Restore is described as a natural raspberry and coconut flavour. Similar to +hemp's Hydrate flavour, Restore is said to be rich in omega-3 and omega-6. It also contains antioxidants, amino acids and Gamma Linolenic Acid.
According to +hemp, the new product is formulated with all-natural ingredients including raspberry and coconut natural flavour, natural colour for the vibrant rose shade, organic Australian hemp seed oil and natural emulsifiers. The natural emulsifiers enable the hemp oil to mix with the reverse-osmosis filtered water in the drink.
Success for +hemp
Eleven months on, +hemp has now sold more than 100,000 bottles of Hydrate.
Look to support local manufacturers who have the innovation and design capability to accelerate your production rather than paying inflated international prices for your machinery.
Read More
The company has 427 stockists in Australia, including all major IGA supermarkets, Dan Murphy's online, Foodland and convenient stores and cafes. They have also expanded globally with retailers in New York, Beverly Hills, Bermuda and London.
"We've experienced strong growth and uptake of +hemp since we launched last September – with 46 retailers when we first launched to now being stocked in 427 retailers across Australia," +hemp founder and Director Natalie Moubarak said.
"It's been exciting to also see our product hit the shelves in the US and UK – being stocked in cafes, lifestyle and wellness stores.
"The huge success of our first +hemp water proved testament that there was interest and demand for a high-quality true hemp water, so it was only a matter of time that we released a new flavour. We're thrilled to launch our coconut and raspberry flavour Restore this month and seeing the response we get from our customers."