Our neighbours in New Zealand, Tasti are launching two new plant-based snacks.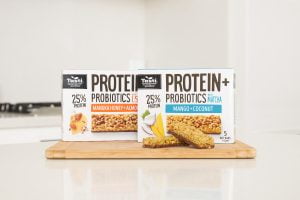 There are currently 2.5 million Australians following a plant-based diet, according to Sports Dietitians Australia. Plant-eaters are also looking for new snacking options, while living life on the go.
"There has been an incredible surge in the number of Aussies who are educating themselves, turning away from snacks loaded with highly refined sugars and diversifying their diet with more plant-based meals and snacks," says Australian Nutritionist and Wholefood cook, Jacqueline Alwill.
Tasti uses plant proteins, probiotics and superfood ingredients. The plant-based approach places an emphasis on high-quality ingredients including vegetables, fruits, wholegrains, seeds and nuts.
While Protein+ is filled with plant protein, Fruit+Vege is Australia's first apple-based bliss ball made from real fruit and vegetables, which contains no added sugar.
"Fruit+Vege are a wholesome plant-based snack for lunch boxes, with core ingredients of apple and sunflower seeds," continues Ms Alwill.
"On the other hand, Protein+ includes plant-based protein, fibre, superfoods and probiotics, which help fuel the good bacteria in the gut and support the health of the digestive system."
Tasti's Fruit+Vege and Protein+ are available in store now at your local Coles, Woolworths and independent grocers.