In an Australian first for the A2 protein milk segment, Australian dairy brand Dairy Farmers has launched a flavoured variety to the market, Dairy Farmers A2 Goodness Chocolate Flavoured Milk.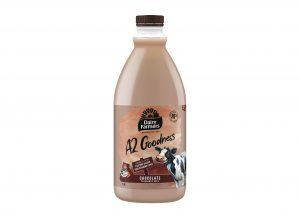 This flavoured milk is available now at Coles Supermarkets across Victoria, NSW and ACT, along with other leading retailers.
The product, which comes in 300mL and 1.5L pack sizes, is sourced from free-roaming and pasture-fed cows from an Australian family dairy farm and is claimed to contain 25 per cent less sugar than regular chocolate milk.
Lion Dairy & Drinks Marketing and Innovation Director Darryn Wallace said: "Our vision is to deliver sustainable, enjoyable nutrition to help people live well, and to offer consumers a wide range of delicious and nutritious products to suit their tastes.
"We know how popular A2 protein milk is, so it's a natural fit for our iconic Dairy Farmers brand to offer consumers greater choice, starting with our Australian-first fresh A2 chocolate flavoured milk."
To find out more about Dairy Farmers A2 Goodness Chocolate Milk click here.