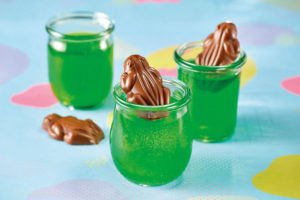 Founded in 1927, Aeroplane Jelly is hosting a number of events this year to celebrate its 90th anniversary.
The historic brand's new TV commercial features a twist on its classic black-and-white 'girl-on-a-swing' ad that first appeared in the 1960s.
This has been accompanied by 'Swinging Celebrations' events in Sydney and Melbourne, with children able to meet 'Bertie the Aeroplane' and receive free jelly and balloons.
Aeroplane Jelly's new range of Glitter Jelly Crystals comes in strawberry, berry blue and lime flavours with edible glitter sprinkled through.
The company has also produced special, limited-edition commemorative 90th anniversary packs of jelly.
In honour of Aeroplane Jelly's founder, Bert Appleroth, who once dropped jelly onto Sydney's beaches from an aircraft as a marketing stunt, will be a paper-plane design competition with the 'fly-off' scheduled for May 8.
The brand is also launching other new products, including Aeroplane Vanilla and Chocolate Dessert Mixes.
Online, a commemorative recipe book will feature such classic recipes as Frog in a Pond and fans will be invited to contribute their own recipes.
Aeroplane will also be encouraging Australians to share their own jelly stories on its Facebook page and through a Nickelodeon partnership.
The brand claims it sells 24 million packets of jelly every year, with its range now including Original Jelly crystals, Naturals Jelly crystals, Jelly Lite, Glitter Jelly and Ready to Eat jelly cups, Mug Cakes and Dessert Mixes.