Western Sydney's Auburn Central shopping centre has launched its "major transformation for the future".
Retail specialist Mainbrace Constructions has delivered the refurbishment to the 9500sqm centre with a full upgrade and 19 new retail tenancies.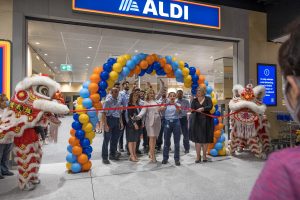 The project for owner Elanor Investors Group and project manager Kaipara Property Group involved the conversion of a former Big W tenancy into a new "best in class" ALDI store. Auburn Central is now also home to a Tong Li supermarket and an "up market" food court, new mall areas, and new amenities including a lobby space and nursing rooms.
In addition, the centre has seen an upgrade to existing mall areas, access ways and carpark. Other new services include chillers, mechanical services, electrical services, loading dock, travelator, and a fire upgrade.
With a claimed high pedestrian thoroughfare of around 12 million people each year, Auburn Central is promoted as a popular convenience-based centre adjacent to a major train station.
Mainbrace is said to have delivered the construction work for the "strategic refurbishment" of Auburn Central under a contract valued at approximately $14 million.
"Auburn Central is a popular centre integrated with a busy transport interchange," says Mainbrace Managing Director Rob Doust.
"Despite the challenges and constraints of this busy environment, Mainbrace structured the major refurbishment to ensure minimal disruption to the existing businesses and the operation of the adjacent train station.
"The refurbishment of Auburn Central delivers an elevated shopping experience for visitors and future-proofs the centre for many years to come. It is a significant addition to our retail portfolio in NSW and we're proud to deliver another high-quality project for Elanor Investors Group."