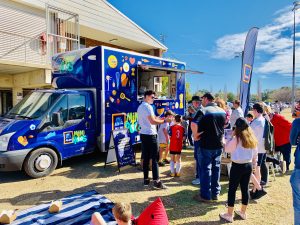 Aldi's MiniRoos program 2019 has proven to be a big success as they saw an increase of 4,606 participants, with the Kick-Off program growing by 3,627.
The program which is in partnership with the Football Federation Australia (FFA) took place over 2,000 communities across Australia, introducing kids to the game of football in an inclusive and engaging way.
Activities during the program
In addition to the growth in popularity, the program was also proud to introduce 1200 migrants to football in communities across New South Wales, Victoria and Queensland through the Aldi MiniRoos Multicultural Settlement Program.
13,000 starter kits were also distributed to Aldi MiniRoos participants which included essentials such as a boot bag, football and water bottle.
Look to support local manufacturers who have the innovation and design capability to accelerate your production rather than paying inflated international prices for your machinery.
Read More
Mighty Mini Chefs Food Truck
The season was kicked off with the announcement that the Mighty Mini Chefs Food Truck would be touring around the country, delivering heating food for Aldi MiniRoos kids. The aim of the food trucks was to also educate kids on the benefits of eating well.
The first appearance was made at the Hyundai A-League 2019 Final Series across Melbourne, Perth and Sydney.
For further information on the 2019 program, click here.