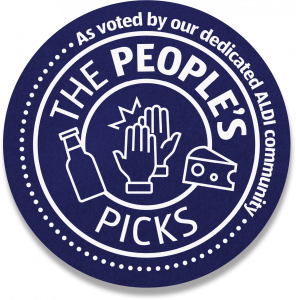 ALDI expresses its appreciation for their passionate customers, who are constantly sharing new recipes and products they find in store.
The supermarket is so thankful that they have ramped up the prize pool for voting in this year's The People's Picks 2021 to $10,000.
There is over 500-award winning products in the ALDI range, according to the supermarket, and The People's Picks is designed for their customers to vote for their favourite ALDI products across 10 key categories.
ALDI shoppers can make their vote before 9 August, the categories include:
The BBQ Boss
The Daily Glow
Most Valuable Product
The Early Bird
The Cleaning Whizz
The Time Lord
The Health Guru
The Lunchbox Legends
The Life of the Party
The Couch Companion
"At ALDI, there's no such thing as 'best-kept secrets', rather they are 'best-shared secrets'," says ALDI Australia's Shopping Expert, Kylie Warnke.
"Our customers are passionate about sharing their secret finds, favourite picks and knowledge on product hacks with their community.
"The People's Picks is a fantastic moment to capture all of our customers' favourite finds and recommendations and share the insider scoop on the products our shoppers are loving. We're excited to see what comes out on top this year!"
Visit voting.aldi.com.au to submit picks.
Winners will be revealed later in the year, and 10 voters will receive ALDI gift cards.