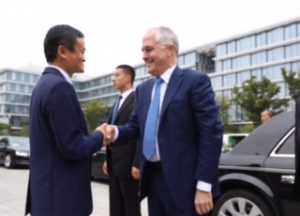 The Australian Trade and Investment Commission (Austrade) and Alibaba Australia have signed a partnership agreement to strengthen trade opportunities by expanding the variety of Australian products sold to Chinese consumers through Alibaba's e-commerce platforms.
The signing of the agreement was witnessed at a ceremony at Alibaba's corporate headquarters in Hangzhou by Australian Prime Minister Malcolm Turnbull and Alibaba group founder and Executive Chairman Jack Ma. The agreement aims to broaden Alibaba's existing partnership with Austrade by providing dedicated services for Australian products and leveraging digital content to build brand Australia abroad.
The partnership will include Australian Fresh Food Week sales promotion and education event on Tmall Fresh – the video channel of Chinese B2C fresh food website Tmall – advancing the interests of Australian companies that export dairy, meat, seafood, fruit and other fresh produce.
"Alibaba enables the smallest businesses, the mom-and-dad businesses, in the regional part of Australia to have access to the biggest part of the world, something that hitherto only a very large company with enormous resources, with enormous representation would be able to do," Mr Turnbull said. "It's a liberating force for small business."
Mr Ma said: "The next chapter of trade between China and Australia will require closer cooperation and this agreement provides a new framework to ensure more businesses, especially small and medium enterprises, can benefit through the partnership between Austrade and Alibaba. Together, we can all work jointly to support Australian jobs and shape a new future for many people and businesses through the cooperation forged this week."