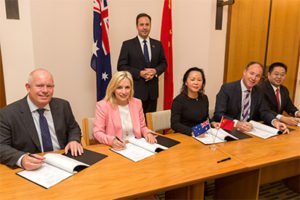 Alibaba Australia will work with PricewaterhouseCoopers to set up a new Food Trust Framework to curb counterfeit food.
PwC (Australia, New Zealand and China), along with Blackmores and Australia Post, signed a memorandum of understanding with Alibaba Australia in Canberra. Blackmores and Australia Post will be involved in providing market testing across their supply chains.
The signing took place on the sidelines of Chinese Premier Li Keqiang's visit to Australia.
The framework will be piloted in Australia and this will form the basis of a global supply-chain model that can be applied across all of Alibaba Group's e-commerce markets.
"Food fraud is a serious global issue that not only costs the food industry billions every year, but puts consumers' health at risk," Alibaba Group ANZ Managing Director Maggie Zhou said.
"The signing of today's agreement is the first step in creating a globally respected framework that protects the reputation of food merchants and gives consumers further confidence to buy food online."
Research conducted by Michigan State University shows that fraud costs the global food industry an estimated US$40 billion ($52 billion) each year.