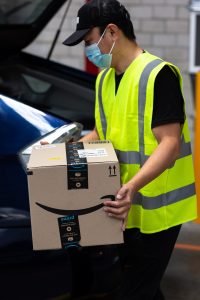 Amazon Australia is creating new job opportunities and speeding up deliveries, with the launch of Amazon Flex in Brisbane.
Originally being launched in January – Amazon Flex has more than one thousand delivery partners earning extra money by delivering packages to Amazon customers in Sydney and Melbourne.
Using the Amazon Flex app, interested delivery partners in Brisbane that have their own car, can sign-up, choose delivery blocks that fit their schedule and deliver packages.
"We're pleased to be able to offer hundreds of flexible earning opportunities to people in Brisbane at a time when they are most needed than ever," says Director of Operations at Amazon Australia, Craig Fuller.
"With greater control of when they work, Amazon Flex delivery partners are able to juggle this new normal with securing extra income."
Mr Fuller continues by saying that Amazon Flex in Brisbane enables the company to respond to peaks in customer demand, while providing Brisbane customers more ways to get parcels delivered.
"Our role in supporting the community during this time is an importance one, and we are committed to getting people the items they need, when they need them," says Mr Fuller.
For more information on Amazon Flex and how to sign up, visit flex.amazon.com.au.