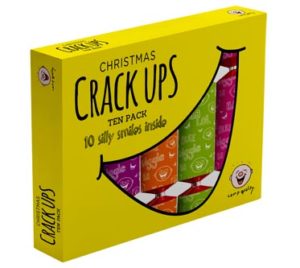 Children's charity Camp Quality is on a mission to deliver "Christmas crackers with meaning" in Australia this year with its range of Christmas Crack Ups.
The aim is to raise funds for children living with cancer, and their families, in a "fun and unique way".
Camp Quality Christmas Crack Ups are available through crowdfunding platform Pozible, with a target of $100,000 to be raised to get the crackers into production. To help reach this goal, the charity has launched an integrated marketing campaign.
The campaign concept is driven by the insight that the jokes inside Christmas crackers are notoriously bad, with Camp Quality's philosophy being that 'laughter is the best medicine' for helping children and their families undergoing a cancer journey.
The jokes inside the crackers have been provided by Camp Quality kids, along with comedians supporting the campaign including Rove McManus and Ronny Chieng.
"The support from the charity's partners and the public so far has been overwhelmingly positive, achieving 65 per cent of our financial target just two weeks into the campaign," Camp Quality CEO Simon Rountree said. "It's exciting to think that Camp Quality's Christmas Crack Ups will make their way on to many Christmas tables this year."
Each year, more than 10,000 children in Australia are affected by cancer and another 130,000 children have a parent living with cancer. Camp Quality says every dollar it receives becomes an independent revenue stream to help the organisation continue providing educational programs, support services and life-affirming camps for children and their families living with cancer.