MEDIA RELEASE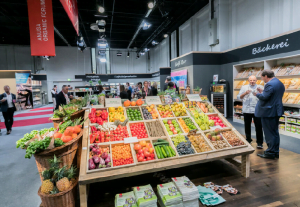 Anuga, the world's "largest" trade fair for food and beverages, breaks new grounds for the developments of the entire industry.
It is an important industry meeting point as the figures of 2019 once again impressively demonstrate: With 7,972 exhibitors and about 169,653 visitors, Anuga Cologne is the "leading" international food fair!
Don't miss the opportunity to be part of the "leading" food fair in Cologne in year 2021. From 9-13 October 2021, Anuga invites exhibitors and trade visitors from all over the world to discover 10 trade shows and 11 trend themes as well as numerous events and congresses. The 'early bird deadline' for exhibiting at the show is 30 September 2020.
Like all international trade fairs, Anuga will also play a decisive role in the post-corona era in showing the industries involved the solutions and trends for a successful future. Production, logistics, sales and communications will increasingly change. Connecting stakeholders, reactivating commercial relationships and establishing new business will become more important than ever before. Trade fairs will play a special role here, because they are an important element for the economic growth of companies. Hence, Anuga is today already working on suitable formats to encounter these challenges. In times like these the aim is to offer all of the market participants new solutions at an early stage, which present a chance for fast economic recovery and lay the foundation for the further future success of the industry.
An important pillar of Koelnmesse here is its global network of trade fairs in the Food & FoodTec section. This offers unique access to the entire international food industry, among others to growth markets like Brazil, Colombia, China, Thailand or the United Arab Emirates. Comprising of around 19,000 exhibitors and nearly 600,000 visitors in total, the network has achieved a size that is unique within the industry worldwide. The events planned in Asia in the autumn already will provide new opportunities to activate one's own business.
Tapping into the potential of the network, Anuga offers its exhibitors and trade visitors additional support via numerous communication channels in order to keep up-to-date and reach one's own customers in these times of cancelled trade fairs.
"In this way, we would like to support the food industry in staying in contact with its customers, in sharing know-how and above all in networking more strongly with each other. For all of our trade fairs in the Food & FoodTec section, we are currently engaging in an active and very constructive exchange with our customers. Many of the exhibitors are already looking forward to important events in their segment, because these are essential for them as a means of presenting their products, providing the industry with impulses and pushing their economic growth. We are thus working flat out on devising new, creative and digital solutions so that our customers continue to dispose of suitable platforms for their business and innovations in times of increased uncertainty. We believe that particularly at present it is all the more important to share best practices in how to deal with the current challenges, because we can only create industry-relevant solutions for the changing demands through mutual exchange. The positive feedback and the high interest of our customers promise a positive outlook for the coming trade fairs and encourage us to continue working at full speed on new formats and improvements for our customers," explained Anne Schumacher.
Overview of the new exhibition dates in the fields of competence food and food technology (status as of 7 May 2020):
Focus Food:
Thaifex – Anuga Asia, Bangkok 22.-26.09.2020, www.thaifex-anuga.com/en
Annapoorna – ANUFOOD India, Mumbai 26.-28.11.2020, www.anufoodindia.com
Yummex Middle East, Dubai, 03. bis 05.11.2020, https://www.yummex-me.com/
ISM, Köln, 31.01. bis 03.02.2021, https://www.ism-cologne.com/
ProSweets Cologne, Köln, 31.01. bis 03.02.2021, https://www.prosweets.com/
ANUFOOD Brazil, Sao Paolo 09.-11.03.2021, www.anufoodbrazil.com.br/en
Alimentec, Bogota, 23.-26.03.2021, www.feriaalimentec.com/en
Wine & Gourmet Japan, Tokyo 14.-16.04.2021, www.wineandgourmetjapan.com
Anuga, Cologne 09.-.13.10.2021, www.anuga.com
ANUFOOD China, Shenzhen, TBD, https://bit.ly/3c3KA7G
Focus Food Technology
ANUTEC – International FoodTec India, Mumbai 26.-28.11.2020, www.anutecindia.com
Anuga FoodTec, Cologne 23.-26.03.2021, www.anugafoodtec.com
ProSweets Cologne, Cologne 31.01-03.02.2021, www.prosweets.com
ProFood Tech, Chicago 13.-15.04.2021, www.profoodtech.com
WellFood Ingredients Summit, Sao Paolo 14.-15.04.2021, www.wellfoodsummit.com.br/en
Andina Pack, Bogota 09.-12.11.2021, https://andinapack.com/en
IIDE – India International Dairy Expo, Mumbai Spring 2021, www.iideindia.com
Cibus Tec, Parma 25.-28.10.2022, www.cibustec.it/en
For further details see: www.global-competence.net/Global-Competence-in-Food-and-FoodTec/index.php
Koelnmesse – Global Competence in Food and FoodTec:
Koelnmesse is an international leader in organising food fairs and events regarding food and beverage processing. Trade fairs such as the Anuga, ISM and Anuga FoodTec are established world leaders. Koelnmesse not only organises food and food technology trade fairs in Cologne, Germany, but also in further growth markets around the globe, for example, in Brazil, China, Colombia, India, Italy, Japan, Thailand, the United States and the United Arab Emirates, which have different focuses and contents. These global activities enable us to offer our customers a network of events, which in turn grant access to different markets and thus create a basis for sustainable and stable international business.
Further Information is available at: http://www.global-competence.net/food/
The next events:
THAIFEX – Anuga Asia – (Admission restricted to trade visitors only, open to the public on Saturday and Sunday), Bangkok 22.09. – 26.09.2020
Annapoorna – ANUFOOD India – India's international exhibition on food & beverage trade and retail market, Mumbai 26.11. – 28.11.2020
ANUTEC – International FoodTec India – , Mumbai 26.11. – 28.11.2020