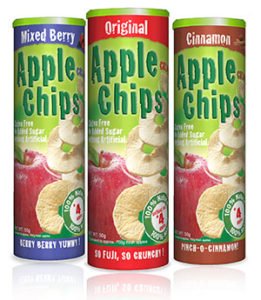 Green Tree has released Apple Chips, a dried fruit snack the company says has "a unique crisp texture that really does go crunch".
The snacks consist of Fuji apples that are sliced, then dried (not fried) and placed into portable canisters. The end result in a 100 per cent natural snack, with no artificial colours, flavours or added sugar.
The Original Flavour Apple Chips contain just apples, while some natural ingredients have been added to create the Apple & Cinnamon and 'Berry Berry Yummy' Mixed Berry flavours.
"With a continuing trend toward healthy snacking, our goal was to give mum and dad a truly guilt-free snack option the whole family can enjoy," Ibis Global Products co-founder Ryan Blunden said.
The product officially launches in July, with national distribution deals agreed and a number of independent grocery outlet to stock the new products.