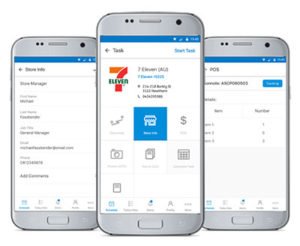 Australia-based mobile-first technology business, Appscore, took home three trophies from the 2017 Asia-Pacific Stevie Awards for its work on Australia Post, Etihad Stadium and Crossmark apps.
Appscore won a Bronze award for the SnapIt app created for Australia Post, and Silver awards for its work on Etihad Stadium's Medallion Club Smart Seats as well as the Crossmark StoreTrack app.
Crossmark staff can use the StoreTrack app, available on IOS and Android, while travelling to check on upcoming jobs, job deadlines, and find the best routes to travel between them.
Appscore co-founder and Managing Director Alex Louey said the work created for all three clients was diverse and required significantly different solutions.
"This is a fantastic achievement for the company and proves that Australian digital agencies provide solutions that are as good or better than any agency in the Asia-Pacific region or even around the world," he said.
Founded in 2010 by Mr Louey and business partner Nick Bell, Appscore is now delivering mobile app solutions as an accredited partner of some of the biggest names in the mobile space. Clients and partners include Telstra, Apple, Samsung and Microsoft.