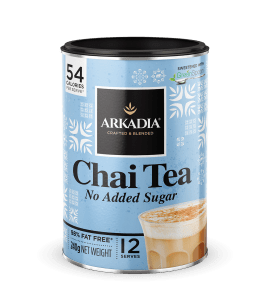 From 1 April, the Arkadia Chai Tea No Added Sugar and Vegan flavour will be available from Coles supermarkets.
No added sugar
The No Added Sugar tea is a blend of exotic spices and natural sweeteners. The café style beverage contains just 54 calories per serve when made on water as directed.
Sweetened with Greenspoon Natural Stevia, Arkadia Chai Tea No Added Sugar delivers the same Arkadia Spice taste without guilt.
This can be made by simply adding hot water for a chai tea, or with any milk for a low-calorie Chai Latte.
Look to support local manufacturers who have the innovation and design capability to accelerate your production rather than paying inflated international prices for your machinery.
Read More
Vegan
The Arkadia Chai Tea Vegan is a non-dairy blend of black tea base and exotic ground spices, that delivers an aromatic, café style beverage.
The chai spice blend is ready to serve, adding in plant-based hot milk for a creamy Vegan Chai Latte.
For more information, visit arkadiabeverages.com.au.