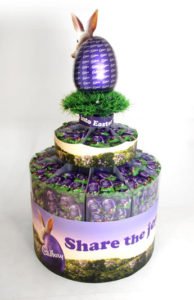 Australian retail marketing campaigns for Mondelēz, Treasury Wine Estates and Revlon won top gongs at the annual Shop! (formerly POPAI) Global Awards, announced at the EuroShop retail expo this week in Dusseldorf, Germany.
Megara took home the Food, Grocery & Convenience, Temporary Award for its 2016 Cadbury Easter Egg Bag Station for Mondelez; while Creative Instore Solutions won for Alcoholic Drinks, Permanent, with the Pinnacle of Premium Wine campaign for Treasury Wine Estates.
Pop This Pop That's Revlon Australia Revlon Ultra HD Matte Lipcolor display won the Beauty & Cosmetics, Temporary category.
Countries represented in the Awards included the US, UK, Australia, Germany, Brazil, 'Greater China', Czech Republic and Portugal. Australia, Brazil and the US took out four awards – the highest number on the night.
POPAI ANZ General Manager Carla Bridge says Australia's success is a reflection of the strength of this country's retail marketing industry.
"Retail and shopper marketing is moving at a rapid pace and it's fantastic to see that Australian agencies, producers and suppliers are not only keeping up with this, but are also excelling at a global level," she said.
"The Australian retail marketing industry has some incredible local talent, and POPAI is keen to continue to foster and promote this, with the sector continually expanding and evolving – particularly with the introduction of digital technologies."
The Global Award winners will be recognised again at the Shop! Awards ceremony at GlobalShop in Las Vegas at the end of this month.
Entries for POPAI ANZ's 2017 Marketing @ Retail Awards open on April 10. For more details, visit popai.com.au.