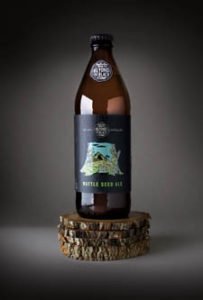 Australian Beer Company says its new limited-release craft-beer range, Beyond the Black Stump, celebrates Australian native ingredients and features innovative fold-out labels to help tell the tales behind the brew.
Taking inspiration from the Australian expression that means the imaginary point beyond which the country is considered remote or uncivilised, the three Aus Beer Co brewers say they have delved into styles influenced by tall tales and eccentric Aussie characters.
The first beer of the series, Wattle Seed Ale, was inspired by Valerio Ricetti who, according to legend, came to Australia as a teenager in search of fortune in the goldfields, but trouble with an Adelaide bouncer and other incidents saw him jailed.
He eventually sought comfort as a hermit in the hills and carved out a private utopia, which he would be later recognised for.
"We found lots of stories around Australia and the Riverina that we wanted to link back into our beers," Head Brewer Andy Mitchell said. "We used local ingredients to emphasise just how uniquely Australian those tall tales are. A lot of Australians don't know these stories."
The story of Valerio Ricetti, like more tales to come, is neatly hidden within the ale's label, only to be discovered once the consumer breaks the seal to find the detailed narrative unfold in the innovative seven-page fold out label contained within.
"No one has done fold-out labels with beer before and, once we had this first story, we thought it would be even cooler to somehow put that into a label," said Aus Beer Co's Sam Johnstone, who came up with the label concept.
The Beyond the Black Stump series will be presented in 500ml bottles distributed through Coca-Cola Amatil.
Launching on June 27, Wattle Seed Ale is promoted as being a traditional strong ale brewed with native black wattle seed, delivering sweet hazelnut notes with a hint of vanilla – a unique pairing that creates an easy-drinking ale with a subtle sourness. The ale's ABV is six per cent, with an IBU of 20.