Media Release
16 December, 2020  
Talk to any local butcher and they will tell you the same thing – the lead up to this Christmas has been absolutely crazy with orders. It seems the 2020 Christmas will be one to remember.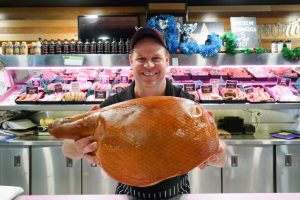 "I've not seen anything like this for years," said Adam Stratton from Tender Gourmet Butchery in Hornsby, NSW.
"We're putting it down to the fact that 2020 has been a very tough year and for a lot of people, they haven't been able to go away as usual or see their families very much. As a result, they're planning on having an extra big Christmas celebration.
"My butcher colleagues right across the country are all reporting the same thing – we're all running off our feet.
"With everyone locked down for parts of the year, it feels as though everyone really wants to let their hair down this year with a turbocharged festive lunch of dinner.
"My customers are telling me that they're really 'opening the shoulders' when it comes to what they've got planned – and that's being translated in the orders we've seen coming in, which are way up on previous years."
"Whether it be turkeys, hams, pork, steaks, rumps or snags, the order books for Christmas are out of control," he said.
Stratton is a multi-award-winning butcher who runs the successful Tender Gourmet Butchery chain across Sydney. He's also represented Australia at the World Butchers' Challenge.
Source: Mojo Media.