FAL Food & Beverages has opened an Australian first coconut speciality retail outlet for Coco Joy in Westfield Bondi Junction.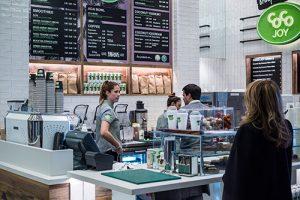 The permanent store offers a range of shakes, smoothies, coconut ice-cream, coconut yoghurt, coffee and healthy snacks, in addition to Coco Joy's range of coconut-based products.
FAL Food & Beverages CEO Tim Xenos said the outlet showcases Coco Joy's growing range of products and demonstrates the versatility of coconuts.
"Beyond being healthy, nutritious and delicious, coconuts are ideal for those with food allergies or intolerances," he said. "There's no better way to show off the many ways Coco Joy is bringing the goodness of coconut to Australians than with this unique retail outlet – one of many we have planned for Australia."
On level five opposite Target at Westfield Bondi Junction, the store stocks Coco Joy products such as Coconut Water and Flavoured Coconut Milk, and product lines such as Coconut Oil.
Mr Xenos said customers can also order from a menu of healthy food and drinks, each created using Coco Joy products.
"This includes shakes, smoothies, ice-cream, an acai bowl, frozen yoghurt, coffee and protein balls," he said. "Finally, shoppers have a dairy-, soy-, lactose-, gluten- and guilt-free alternative."