There's never been a better time to buy Australian. As the world grapples with the COVID-19 pandemic, more Australians are buying local.
By Australian Small Business and Family Enterprise Ombudsman Kate Carnell.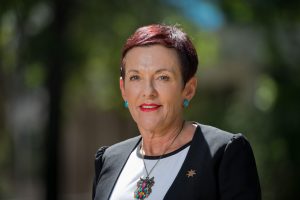 The statistics say it all. In March, visits to the Australian Made website soared by 30 per cent to more than 150,000. Facebook likes for the campaign skyrocketed by more than 450 per cent and Instagram and Twitter follower numbers also rose exponentially.
Evidence of the demand for Australian made products is now on show at the local supermarket.
An IGA store on Queensland's Sunshine Coast, according to recent reports, has come up with the genius idea of putting 'Australian owned' shelf labels on these products.
Maleny Supa IGA shared photos of the 'wobbler' labels on Facebook to show its support for Australian owned businesses. The social media post sparked calls by shoppers for major supermarkets Woolworths and Coles to follow suit.
The buy-local campaign is also resonating at a business level. A recent Roy Morgan survey found three quarters of surveyed businesses prefer to buy Australian products, and 26 per cent have an aligned policy in place.
As we continue to see the number of coronavirus cases drop across Australia, many are considering the path to easing restrictions and the best way to fast-track our economic recovery.
There's no doubt that investment in local industries, businesses and jobs through buy-local policies would go a long way to helping Australia bounce back.
The federal government has already committed to increasing domestic manufacturing of products such as medical supplies, but there would be tangible benefits to broadening this approach.
If COVID-19 has done anything, it has exposed the long-term need for local manufacturing to ensure Australia can be self-sufficient in producing essential products.
As plans are made to find our way out of this difficult pandemic period, there's a huge opportunity for all levels of government, in coordination with the nation's business community, to prioritise Australian made products and services.
The good news is that an Australian option is available for almost every area of manufacturing, ranging from food, to furniture, to health products, to construction materials and office consumables.
Many of these are SMEs and this critical sector needs support more than ever, particularly when the transition back to normal trading conditions finally happens.
Right now, we have a unique opportunity to support Australian producers. Australia's economic future depends on it.
*Kate Carnell is a board member of the Australian Made Campaign Ltd
About Kate Carnell AO

Since being appointed Australian Small Business and Family Enterprise Ombudsman in March 2016, Kate has been a powerful advocate for small business. The Ombudsman has provided direct support to thousands of businesses involved in disputes. Throughout her career, she has served as CEO of the Australian Chamber of Commerce and Industry, which represents 300,000 Australian businesses, and was awarded an Order of Australia for her service to the business sector.