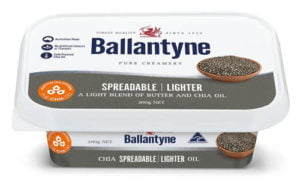 Ballantyne is launching a spreadable butter blended with chia oil, which the company says is the first of its kind in the world.
The product seeks to combine the flavour and texture of butter with the health benefits of the superfood. Chia is high in omega-3, which may assist with good blood flow, hormonal balance and improve mood. It is also a rich source of antioxidants, which can help limit the production of free radicals, slowing the ageing process and protecting skin from damage.
"Chia is now a mainstream superfood," Ballantyne Marketing and Brand Development Manager Yuko Granger said. "Its benefits are widely appreciated and this should accelerate trial and adoption. Every detail about the new chia product is special. It's blended with butter made from Australian milk. It uses a proven and popular superfood, which is grown locally and sustainably. It's creamy and delicious like butter should be, and has additional health benefits that no other butter can offer."
The new product will be available on-shelf in more than 500 supermarkets and specialty food outlets nationwide. It will be supported by a four-month multichannel marketing campaign, in-store sampling, consumer promotions, public relations activities, and an invitation-only baking masterclass in Melbourne by Kate McAloon, personal chef to Miranda Kerr and Gwyneth Paltrow.