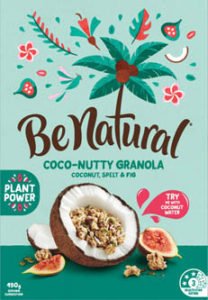 Be Natural has introduced a number of new granolas, cereals and snack bars which will join its existing cereal range in a rebrand featuring a new look.
The flagship product in the rebrand is Coco-nutty Granola, promoted as being Australia's first granola designed specifically to be eaten with coconut water. It is available in coconut, almond, spelt and cinnamon or coconut, spelt and fig flavours.
"We have developed completely new recipes that use only high-quality, plant-based ingredients," Be Natural spokeswoman Ally Wettengel said. "The decision to create a granola designed to be served with coconut water was inspired by the natural food movement and responds to increased demand for milk alternatives at breakfast time."
Coco-nutty Granola is available for $5.99 for a 450g box in Woolworths, Coles and independent retailers nationally.