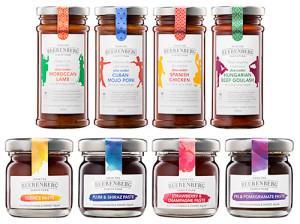 Beerenberg is expanding its product range with the introduction of new slow-cooker sauces and cheeseboard plate pots.
The sauces – Cuban Mojo Pork, Hungarian Beef Goulash, Moroccan Lamb and Spanish Chicken – take between two-and-a-half and six hours to cook, requiring only simple ingredients and the recipe on the side of the jar.
The company is also releasing Beerenberg Cheeseboard Paste pots, designed to accompany a cheeseboard or tasting plate. The pots are available in Quince, Plum & Shiraz, Strawberry & Champagne, and Fig & Pomegranate.
Both product ranges are handmade at the Hahndorf farm in the Adelaide Hills, SA. Beerenberg is a family owned Australian company.