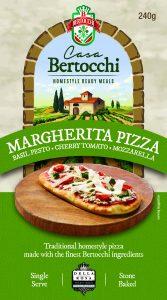 The Bertocchi Food Group proudly continues development, and presents an innovative new range of artisanal pizzas, in collaboration with Della Rosa.
Della Rose is another Australian-owned and operated manufacturer in Melbourne.
The pizzas are premium, restaurant quality pizzas made fresh, and is delivered to customers via major supermarkets, independent stores and food service operators.
The range is produced in the traditional Italian method: stone baked pizza bases, topped with fresh, locally grown produce.
Portions are suited for a single serve or a family size pizza to share and take only 10 minutes.
The shelf life of the pizzas are 16 days, and the RRP range from $5.95 to $9.95.