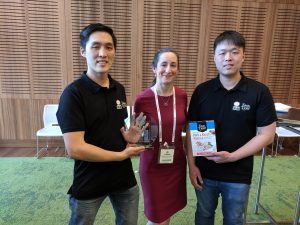 Fine Food Australia named its best new retail products this week.
The triumphant product, as judged by the Retail Word team, was Easy Tiger Pork & Kimchi Gyoza by O'Smiles.
The two runners-up were Kreol Prebiotic Sparkling Drinks by The Natural Beverage Company and Organic Ramen Miso from Spiral Foods.
A gut decision
Retail World Editor Hailey Settineri says there were more than 200 entries to the Best New Retail Product Awards this year and all were of an extremely high calibre.
"We took a number of factors into consideration when judging the entries for this award – taste and visual appeal, degree of innovation, distribution and availability – but when it came to selecting the following finalists, I guess you could say it was a 'gut' decision.
"Gut health continues to be a strong consumer trend that's driving retail sales and product innovation. Each of the finalists have, to differing extents, incorporated fermented ingredients into their products, with gut-friendly and tongue-tantalising results."
Something to smile about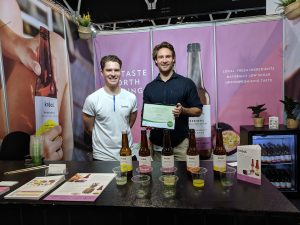 O'Smile's winning product unites sour, spicy, and umami flavours all in one for a delicious flavour combination.
Recognising a gap in the market for products that have the increasingly popular kimchi – which is known for its probiotic properties, as well as vitamin C and carotene – and pork as main components, the O'Smile team has worked hard to formulate a recipe for a kimchi gyoza filling that incorporates Australian pork.
O'Smiles says its Pork and Kimchi Gyoza are one of a kind in the Australian market as all other currently available kimchi gyoza are imported and do not contain meat, let alone Australian Pork.
Kréol Prebiotic Drinks contain millions of live cultures from raw, biodynamic apple cider vinegar, electrolytes and vitamins. It also contains organic chicory root, a very high source of prebiotic fibre.
Spiral Foods' Organic Miso Ramen has a delicious liquid miso base sachet and slow dried (not fried) noodle's that have a distinct quality in texture and taste. Made in Japan, this instant meal contains no MSG or GMO ingredients, and is both vegan certified and ACO Certified Organic.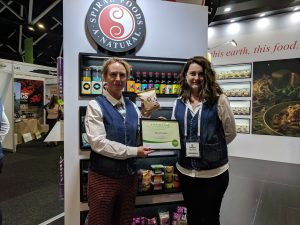 Celebrating creativity at Fine Food Australia
Event Director Minnie Constan says the Product Awards at Fine Food Australia are hotly contested and highly prized.
"Customers and consumers are always looking for what's new and eager to try something different so it's important we reward and celebrate the clever and creative businesses that are pushing the boundaries," she said.
This year, winners were announced across four categories: bakery, food service, retail and hospitality.
Bakery Award
Winner: Direct Bakery – Vitelli Automatic Dough Press and Cutting Station System.
Finalists: Ready Bake: vegan and gluten free pie shell with matching puff pie top; Bakers Maison – almond filled croissant.
Food Service Award
Winner: Simplot Foodservice – I&J Fish IN Chips.
Finalists: RDM Pizza Australia – Chocolate Pizza Base; The Australian Superfood Company – Wattle Seed Extract.
Retail Award
Winner: O'Smile – Easy Tiger Pork & Kimchi Gyoza.
Finalists: Kreol Prebiotic Sparkling Drinks; Spiral Foods – Organic Ramen Miso.
Hospitality Award
Winner: SKOPE Industries – ReFlex.
Finalists: Hobart – Premax GPCROI PREMAX Glasswasher with dryer and reverse osmosis; Meiko Australia Pacific – M-iClean UMI.