The Adelaide-based company has launched a limited-edition black wax cheddar as a tribute to the South Australian dairy industry.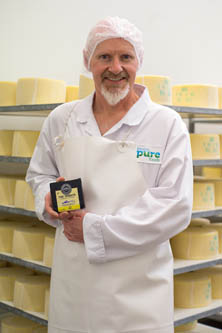 The cheese, appropriately named The Tribute, has been manufactured at the company's Beston Pure Foods factory at Murray Bridge as a way of recognising the significant contribution dairy farmers make to the economy of South Australia.
Beston Global Food Company (BFC) Chairman Dr Roger Sexton says The Tribute original cheddar cheese was inspired by the hardships experienced by local dairy farmers in recent times and is aimed at helping them through this period and beyond, by increasing the demand for their milk.
"The limited–edition black wax cheddar is truly South Australian – using only local milk, local hands to craft and hand-dip every block, and local stores to sell it," he said. "Consumers have the opportunity to say 'thank you' to our dairy farmers and recognise the role these farmers play in South Australia and the efforts they make in continuing to supply milk in times of considerable hardship in the industry."
Each block of The Tribute cheese has been handcrafted by the company's cheesemakers and is personally autographed by the head cheesemaker at Beston Pure Foods, Lewis D'Angelo.
The cheese is being sold under the company's Edwards Crossing label and part of the proceeds from all Edwards Crossing cheese sold by BFC will be used to build a 'cheese bank' whereby additional milk will be taken in from farmers and turned into cheddar cheese, which will then be aged for up to three years. BFC will donate a portion of the proceeds from the sale of vintage cheese from the cheese bank to improve the welfare of dairy farmers in the state. BFC will work with the SA Dairy Association to determine the fairest and most appropriate allocation of these funds.
A series of 2,500 special–release blocks are available for purchase online as part of a hamper purchase and will be available in selected independent supermarkets and specialty stores across South Australia in the coming weeks.