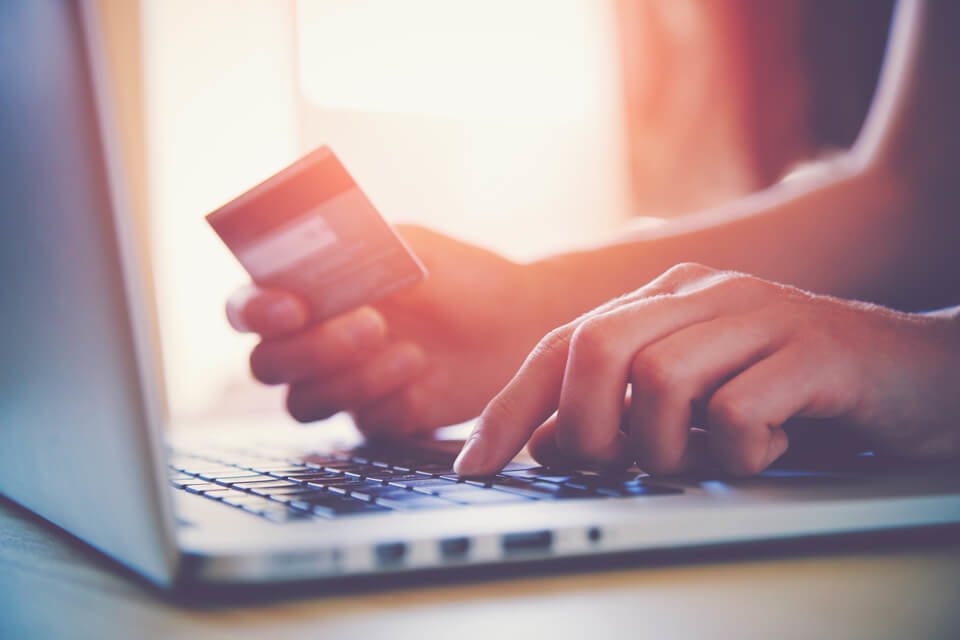 Softdrinks and water multipacks, and water filters, lead beverage sales on eBay, according to ShelfTrend.
Cold and ambient beverages present a varied picture on eBay. On the one hand, the number of listings isn't huge compared with, say, baby. Even in the biggest beverages subcategory, soft drinks, there were around 1,400 listings for Australia (compared with nearly two million for baby), In the US there were 7,000 listings, and in the UK, 18,000.
On the other hand, much of what is selling is bulk pack formats or specialty items, and there is some evidence that trade buying is occurring to on-sell to consumers, particularly in the UK for water.
Unlike the baby category, the UK is a larger eBay beverages market than Australia or the US by some order of magnitude. Thirty-day sales value of the top 100 cold beverages listings show the UK total at nearly 1.5 times that of the US, and 10 times that of Australia (see Figure 1).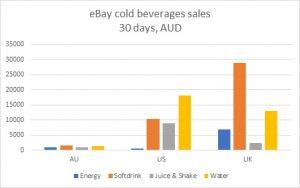 The category splits are different by market, too. While Australia skews slightly to water and soft drink, it has good representation from energy and juice/milkshakes (which includes iced coffee). The US skews heavily to water, and the UK to soft drink. However, it should be noted that in the UK, a nation with historic water quality issues, if water filters were included in the data they would quadruple the size of the water segment's previous 30-day sales value from £7,000 to £29,000 ($13,200 to $55,000).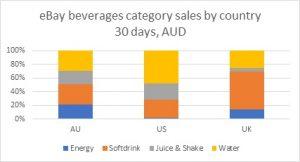 Within Australia, the category split picture also differs between Coles and non-Coles eBay sales. Non-Coles sales are fairly evenly split across subcategories, but Coles eBay beverage sales skew heavily to soft drink at 55 per cent, more closely mirroring the UK.
Below we take a top-line look at each beverage category. Note that iced tea is too small a portion of top 100 listings sales value to report on meaningfully, being under one per cent of total cold beverages eBay sales in Australia and the US, and under three per cent in the UK.
Energy drinks
Although energy represents a tiny portion of eBay US beverage sales, within this Red Bull rules the roost at triple the sales of the next closest competitor, which interestingly is unbranded, with Gatorade rounding out the top three brands. For both Red Bull and Gatorade the top selling SKU is a 24-pack.
It's a different story in the UK where the Red Bull brand is a lowly eighth and Monster, at number one, has nearly five times the sales of a brand named Emerge at number two. Third place-getter is Green Monkey, the UK's first carbonated drink infused with cannabis sativa. Historic brand Lucozade comes in at number four and Gatorade only fifth. At an SKU level, two of the top four are 24-packs, and the other two are 12-packs, including a new Monster-plus-juice SKU.
Red Bull rebounds in Australia at number one, with Monster at number two, V at number three, and no other meaningful brand sales. Red Bull's and Monster Zero's top selling SKUs are both 24-packs.
Soft drinks
The strength of the soft drinks subcategory in the US and UK is evident by its 50-plus sellers in those markets competing for the top 100 listing spots, compared with only 10 sellers in Australia. In the US, Fanta comes in as the number one brand, followed by Coke and a lesser known brand, Zevia, rounding out the top three. In the UK it's the reverse, with Coke at number one, Dr Pepper at number two and Fanta third. Evidently this market likes root beer, with A&W fifth.
Australians also appear to be using eBay for their Dr Pepper fix, followed by Coca-Cola Amatil's Kirks in second and Coke third. Tang, interestingly, was fifth. In Australia, four of the top five SKUs are 24-can blocks, as are the top two SKUs in the UK, while the US appears to be more limited releases and larger single serves. On Coles eBay in Australia, the top selling soft drink SKU is a 30-can block of classic Coke.
Juice and milkshakes
This category, which is really two put together, features a lot of minor brands. In the US, the number one selling brand is Ocean Spray (cranberry juice) but the number two is Starbucks (coffee) and the third is an interesting cherry juice brand, Cheribundi. That's where the major brands stop for the category, across all three markets. Nearly all the rest are minor brands. All the top 12 in Australia are lesser known, with Douglas Park (a sparkling grape juice, ie, an alcohol alternative) at number one. It's a similar story in the UK, although Britvic at number four may be known to some Aussies (and expats). The dominant pack format sold for juices appears to be 12-packs of 500-750ml bottles.
Coles eBay presents a slightly different picture, with the main brands being Coles, Campbells, and Golden Circle and the dominant SKU being a 2lt bottle.
Water
Ironically perhaps, this is the most interesting category.
In the US, Fiji water narrowly takes the top brand spot, with lesser known brands Poland Spring and Essentia second and third respectively. The top two selling SKUs are Essentia ionised alkaline electrolyte waters, with Poland Spring's 12-packs of mineral water third.
In Australia, the top two brands are lesser knowns (Deuterium Aqua, a 'depleted drinking water', and Propel, a flavoured electrolyte based water), followed in short order by the majors San Pellegrino, Mount Franklin and even value brand Black & Gold.
But it's the UK that really has some evidence of trade buying (on-selling – typically mum and dad corner stores and restaurants), given the top water SKUs are either Costco's Kirkland bulk buy 48-packs, or 40-case pallet buys. The top brand, Kirkland Signature, leads second placegetter Fiji by a sales factor of four.
The takeaway
Like other categories, beverages on eBay shows evidence of customers seeking niche brands and SKUs, or value for money on the products and brands they know. While it's understandable that shoppers want to amortise shipping costs by buying in bulk, in beverages given the size of the skew to bulk packs and even pallets, it's impossible to rule out the likelihood of trade buying.
About ShelfTrend
ShelfTrend provides live eBay marketplace intelligence for many FMCG categories. Data includes sales performance, search rank, new competition, and supply and demand on products, brands and competitors. Subscribe for free data, and upgrade for more.