Beyond Meat's flagship product, the Beyond Burger, is now available across most Woolworths stores.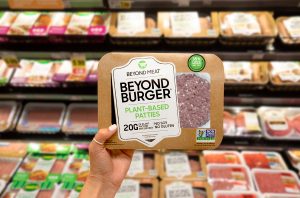 The launch, says the plant-based meat company, responds to local consumers' growing demand for plant-based meat products that are better for human health and the health of the planet. According to Food Frontier data, one in three Australians have been consciously limiting their animal meat consumption, with 42% of the population acquiring new food habits.
The launch follows the launch of Beyond Meatballs in Coles earlier this month.
"We've seen a strong response from consumers since arriving on Australian shores in 2018, so being able to expand our presence at a major retailer such as Woolworths is a huge step towards increasing our accessibility locally," says Beyond Meat Vice President International Business Development Ihab Leheta.
"Our mission is to provide consumers with absolutely delicious plant-based meats that are better for their health and the health of the planet so that they can continue to enjoy their favourite meals, no sacrifice required."
About the burger
Beyond Meat first introduced the Beyond Burger in 2016, "revolutionising" the category as the first plant-based burger designed to "look, cook and taste" like animal meat and sold in the meat case.
The product, says the company, has since become a "ubiquitous symbol" for the future of food innovation and is now available in over 80 countries worldwide.
The Beyond Burger is designed to deliver the same juicy, meaty taste and texture as animal-based burgers while delivering strong nutritional benefits such as:
20g of protein per patty from peas, mung beans and brown rice
No cholesterol, antibiotics or hormones
Made from "simple", plant-based ingredients without GMOs, soy or gluten, the Beyond Burger is also certified kosher and halal.
Fans across Australia can now pick up the Beyond Burger two-pack at Woolworths for the price of $11.