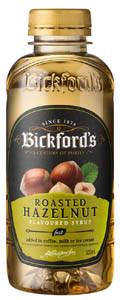 Coffee fans can now recreate their favourite barista-style brew at home with three new Bickford's Flavoured Syrups.
With Roy Morgan research indicating that one in three homes has a coffee machine, Bickford's says its Salted Caramel, Roasted Hazelnut and Dark Chocolate syrups offer the perfect boost to any coffee.
"Our premium syrups will help coffee-drinkers to recreate an indulgent, barista-made coffee in their own home," Bickford's Marketing Manager Chris Illman said. "But these syrups are much more than just flavours for coffee. People can add milk to create the ultimate adult milkshake or drizzle over ice-cream for a luxurious dessert."
Bickford's has almost a century of experience producing coffee syrups and says its award-winning Iced Coffee Syrup, first launched in 1920, remains a family favourite.
"The new range presents a welcome opportunity for retailers nationally," Mr Illman said. "Flavoured syrups are expected to deliver incremental cross-category sales to regular white milk and instant coffee purchases – both of which are growing."
Bickford's Flavoured Syrups are the latest addition to the brand's existing supermarket beverage range, which includes cordials, juices, carbonated drinks and milkshake mixes.