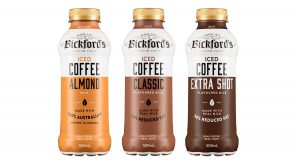 Bickford's Australia has launched a new range of ready to drink iced coffee options.
The family-owned business already has a strong coffee history through the award-winning Iced Coffee syrup, which was first produced in November 1919 and is said to still be delivering growth 100 years on.
"As we enter the centenary year of our Iced Coffee syrup, a ready to drink coffee option was an obvious flavour to start with on our fantastic new production line," Group Marketing Manager Chris Illman said.
The new range delivers two dairy options in Classic Coffee and Extra Shot made with locally sourced milk alongside an Iced Coffee almond milk made using Australian-grown almonds.
"The response from consumers has been fantastic," Mr Illman said.
"In particular, the almond version has been given a resounding thumbs up. When we spoke to consumers, the feedback was that many almond products are thin and watery, so we worked hard to achieve the right mouthfeel as well as flavour and it seems we did a pretty good job."
Packaging and marketing
Stepping away from the category norm of predominantly dark colours and male-dominated messaging, Bickford's says the packaging is fresh and modern.
The company ensures it has retained the Bickford's recognisable heritage, though, making use of its logo with a vibrant, bold campaign that is designed around the message 'The perfect choice, whenever, wherever you like it'.
Bickford's believes that the key to engagement is "liquid on lips" and to achieve this has partnered with Mitsubishi Motors Australia. A wide-reaching consumer sampling campaign in South Australia throughout the summer will be delivered in two fully branded Triton GLS Premium. Bickford's hope to extend the sampling activity beyond South Australia in the next few months.
The new range rolls out in South Australia with retail launch partners Foodland, Drakes and OTR before extending out nationally through a strong distributor network.